Roll over image to zoom in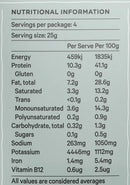 Introducing the 100g Mini Meat Sticks from Barbell Foods, seasoned with sea salt, ideal for those who prefer a straightforward taste.
These meat sticks are specially spiced with sea salt, making them an excellent fit for individuals adhering to the carnivore diet.
The Mini Meat Sticks are designed to be easily consumed on the go, with bite-sized portions that save you time for the activities you enjoy. Give them a try!
Payment & Security
Your payment information is processed securely. We do not store credit card details nor have access to your credit card information.