Roll over image to zoom in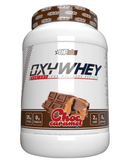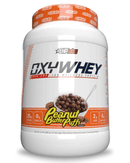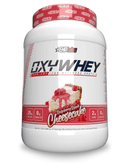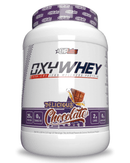 OxyWhey is an industry-first, innovative and science-based Lean Wellness Protein formula made from 100% pure, lean, non-GMO whey protein. All flavors are 100% natural and irresistibly delicious and indulgent, making it difficult to stop at drinking just one serve.   
OxyWhey is not your standard protein. It will make you feel good, from the inside out! 
Each serve of OxyWhey contains 1 billion CFU of the super-probiotic, L. Rhamnosus, which has been scientifically proven to promote gut health and microbiome balance, skin health, immunity, decreased inflammation and weight loss by regulating hunger hormones (leptin). The addition of chromium picolinate in OxyWhey also assists with appetite control and helps to curb sweet cravings.
OxyWhey has been formulated to conquer everyone's protein fears - gas, bloating, queasiness, and stomach discomfort. The addition of the patented enzyme, Prohydrolase combined with lactase ensures that OxyWhey delivers all the protein goodness, without the gas, bloating and discomfort. Your gym buddies and work colleagues will thank you for choosing OxyWhey.
OxyWhey's full spectrum health and wellness formula also provides alkalizing vitamins and minerals, as well as B Vitamins to give you that extra boost and vitality. This ensures that your body is functioning at the optimal metabolic level and does not become acidic and lethargic as a result of lactic acid build-up from exercise, stress, high protein diet and amino acid consumption.
Payment & Security
Your payment information is processed securely. We do not store credit card details nor have access to your credit card information.