Roll over image to zoom in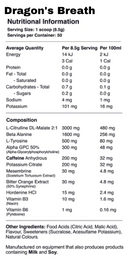 Team Flex ambassador and new WBFF PRO Erynne Stone has put together 2 stacks of her all time favourite products that are available at Team Flex. Below is her Staples Stack, perfect everyday supplements that help her daily fitness goals, she has written below why each of these products are apart of her routine, check it out! ↓↓

Greens: If I had to pick one supp to use for the rest of my life, it would be my greens. A daily non-negotiable of mine, no matter who you are and what you do, I really think they are the best way to start your day… improving gut health, immune function… and they hands down taste amazing (not like grass… IYKYK) My favourite flavour is White Lychee!! 
Dragons Breath:
This stuff is the perfect balance of stim/energy/focus/pump all blended into a perfect container of pure goodness. Even on the latter end of my prep (full deplete mode baby) this stuff kept me pumped up, energised, and basically alive during my sessions… I'm picky because I don't like the crash some pre-workouts give, but the ratio of ingredients in this is magical… the new Nashi pear flavour is 11/10 and all the flavours match up to the non-stim Dragon Pump if you're feeling naughty and want an extra scoop of  spicy pump
Dragon Whey: I genuinely never enjoyed protein powder until I got Dragon Whey. I found that most protein powders always tasted chalky and hurt my belly. Dragon Whey is literally the PERFECT consistency, and with the added DigeZyme I've never had any issues - I literally preach this stuff like it's bible. My favourite flavour is Vanilla Icecream and I have it in my oats every single day! Tastes super good in smoothies, yogurt, or even on its own
Use code ERYNNE to save! 
Payment & Security
Your payment information is processed securely. We do not store credit card details nor have access to your credit card information.