Roll over image to zoom in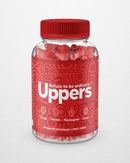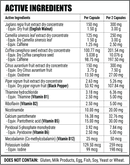 Power through your day with Faction Labs UPPERS®. Specifically formulated to support your energy production, metabolic rate, cognitive function and thyroid function. Faction Labs UPPERS® will ensure you won't be left behind. Don't compromise your performace and wellbeing, make the most out of your life and refuse to be ordinary with Faction Labs UPPERS®.
WARNINGS: Adults only. Do not use if breastfeeding pregnant or likely to become pregnant. Contains 100 mg of total caffeine per hard capsule. Caffeine intake more than 200 mg is not recommended during pregnancy or breastfeeding. A cup of instant coffee contains approximately 80 mg of caffeine. Limit the use of caffeine-containing products (including tea and coffee) when taking this product. Caffeine interacts with enzyme CYP1A2 in the liver. Consult your health professional before taking with other medicines. If symptoms persist, talk to your health professional. Mineral and vitamin supplements can only be of assistance if dietary intake is inadequate.
Payment & Security
Your payment information is processed securely. We do not store credit card details nor have access to your credit card information.