Roll over image to zoom in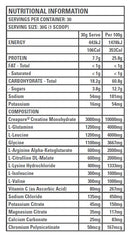 GEN-TEC P2P
GEN-TEC NUTRITION'S P2P (Power to Perform) is an advanced intra workout formula designed for bodybuilders and strength training athletes. The synergistic blend of creatine monohydrate, amino acids and carbohydrates is ideal for individuals with a goal of increased strength and lean muscle mass. Due to the cortisol suppressing effects of carbohydrates and certain amino acids, P2P is ideal for individuals with a goal of reducing catabolism (muscle breakdown) and improving recovery. 
Also containing added Electrolytes, consuming P2P during exercise supplies the working muscles with all of the essential nutrients at this crucial time to maximize your potential and give you the Power to Perform.
Payment & Security
Your payment information is processed securely. We do not store credit card details nor have access to your credit card information.