Roll over image to zoom in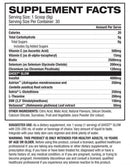 Ghost Glow will provide you with the essential vitamins, minerals and other nutrients you need to promote healthy cell regeneration, protect your body from harmful free radicals, give you more vibrant skin, thicker hair, stronger nails and promote a healthy hormone balance in both men and women!
Recommended use:
Ghost Glow should be taken at a consistent time of day everyday. Whether it be first thing in the morning or last thing at night, whichever time works for you to be able to consume Ghost Glow daily. Simply take 1 scoop (1 serving) with at least 250ml of water
Payment & Security
Your payment information is processed securely. We do not store credit card details nor have access to your credit card information.