Roll over image to zoom in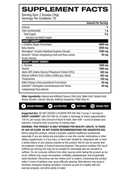 Every single scoop of Ghost Legend power packed pre-workout includes:
4g L-Citrulline: Citrulline is one of the best pump ingredients on the market today and while more expensive, pure L-Citrulline delivers even better pumps without the potential for stomach discomfort caused by the additional acid (Citrulline Malate)...and since its Vegan fermented Ghost Legend is Vegan friendly!
3.2g Beta Alanine: Beta Alanine enhances performance by increasing exercise capacity and decreasing muscle fatigue. It also has antioxidant, immune-enhancing and anti-aging properties.
250mg Natural Caffeine: Ghost Legend has 250mg of natural caffeine from coffee bean for a smooth, clean kick and less crash!
Nitrosigine®: is a patented pump ingredient that was clinically shown (over 30 supporting studies and 10 patents) to be 5x more effective than Arginine. GHOST LEGEND® packs a full 1.5G dose (per serving) of this premium, new-school pump ingredient...because long live the pump (no seriously, Nitrosigine® is scientifically engineered to last up to 6 hours).
Senactiv®: Senactiv® aids in ATP (energy) production, recovery, endurance, and promotes healthy muscle cell regeneration. Enough said.
L-Tyrosine: L-Tyrosine is a free-form amino acid which rapidly crosses the blood-brain barrier. With regards to performance, tyrosine's main benefit is its ability to increase the synthesis of multiple neurotransmitters and enhance dopamine, epinephrine and norepinephrine levels. Studies have found that tyrosine supplementation can improve mood and enhance focus.
Alpha-GPC: Alpha-GPC is a nootropic that delivers some serious cognitive benefits. Having a ton of energy is great, but being able to channel that energy and actually focus during your workout is just as important.
NeuroFactor™: NeuroFactor™ is an all-natural, patented extract of the whole fruit (including the bean) of the coffee plant that has been clinically studied to boost brain and cognitive function in ways your morning cup of coffee can only dream of.
Payment & Security
Your payment information is processed securely. We do not store credit card details nor have access to your credit card information.