Roll over image to zoom in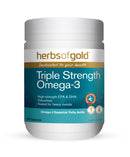 Description
Herbs of Gold Triple Strength Omega-3 is a high-strength fish oil supplement rich in eicosapentaenoic acid (EPA) and docosahexaenoic acid (DHA).
High-strength EPA/DHA

Supports joint health
Odourless
Fish oil contains essential fatty acids, which are important as the body cannot produce them and they can therefore only be obtained from the diet or through supplementation. Fish oil is a natural source of marine omega-3 fatty acids. 
Triple Strength Omega-3 helps prevent dietary omega-3 essential fatty acid deficiency.
Triple Strength Omega-3 uses high-grade, sustainably sourced fish oil that undergoes molecular distillation and purification steps. It's tested for heavy metals, environmental pollutants and oxidative markers to ensure purity.
Triple Strength Omega-3 supports eye and skin health and maintains healthy blood circulation and cardiovascular system function. It also maintains brain, muscle and nervous system function. 
Triple Strength Omega-3 maintains healthy foetal development and supports healthy growth and development and eye health in breast fed healthy infants.
Triple Strength Omega-3 supports cognitive function, memory recall and emotional balance. 
Triple Strength Omega-3 relieves inflammation and helps maintain healthy joint cartilage.
Triple Strength Omega-3 reduces menstruation pain.
Always read the label. Follow the directions for use. If symptoms persist, talk to your health professional. Contains sulfites.
Ingredients
Each capsule contains:
| | |
| --- | --- |
| Concentrated fish Omega-3 triglycerides | 1.5g |
| equiv. Eicosapentaenoic acid (EPA) 540mg |   |
| equiv. Docosahexaenoic acid (DHA) 360mg |   |
|  Contains fish products and sulfites. |   |
| Does not contain egg, milk, peanut, corn, tree nuts, gluten, lactose or artificial colours or flavours. |   |
Payment & Security
Your payment information is processed securely. We do not store credit card details nor have access to your credit card information.