Roll over image to zoom in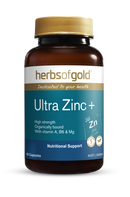 Ultra Zinc + is a complex nutritional formula containing zinc, vitamins A and B6 plus magnesium.
Zinc maintains male reproductive system and prostate health and supports sperm motility.
Zinc is important for skin health as it supports wound healing and connective tissue health. Zinc also maintains taste sensation.
Ultra Zinc + contains vitamin A to support eye function and healthy vision.
Zinc and vitamin A are antioxidants that reduce free radicals formed in the body and support healthy immune system function.
Vitamin B6 assists the metabolism of protein, carbohydrates and fats and the synthesis of neurotransmitters.
Recommended use:
Take 1 capsule daily, with food, or as directed by your health professional.
Payment & Security
Your payment information is processed securely. We do not store credit card details nor have access to your credit card information.