Roll over image to zoom in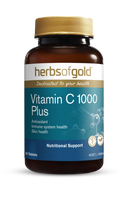 Vitamin C is an important nutrient for humans that cannot by synthesised in the body. Vitamin C 1000 Plus provides 1g of vitamin C in a low acid form to support healthy immune system function. 
Vitamin C and zinc support prostate and reproductive system health in males. They also maintain sperm health and motility. 
Vitamin C supports blood vessel, blood capillary and bone health.
Vitamin C and zinc help connective tissue formation and maintain skin health. 
Zinc is an important trace mineral that is involved in over 300 chemical reactions in the body. A diet high in plant foods can impact zinc absorption. Vitamin C 1000 Plus contains 8mg of zinc to support wound healing and metabolism of protein, carbohydrates and fats.
Vitamin C 1000 Plus contains antioxidants that reduce free radicals in the body.
Vitamin C forms part of the antioxidant network, helping to regenerate vitamin E.
Vitamin C supports the absorption of dietary iron.
Recommended use:
Take 1 tablet, one to three times a day, with food, or as directed by your health professional.
Payment & Security
Your payment information is processed securely. We do not store credit card details nor have access to your credit card information.