Roll over image to zoom in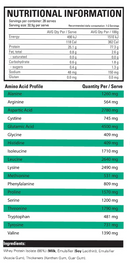 Indulge in the ultimate protein excellence with Legit Whey Protein Isolate, now offered in a range of delightful flavours. At Legit, our passion for creating standout formulations shines through, and Legit Whey represents the pinnacle of our commitment. Get ready for a tasteful adventure as this exceptional whey protein isolate provides a remarkable 25g of protein per serving. Whether you're aiming to boost your daily nutrition, sculpt lean muscle, or expedite recovery after your workout, Legit Whey is your reliable companion on the journey to fitness achievement.
Legit WPI has been specifically formulated with performance in mind:

Protein Powerhouse: Whey protein isolate is packed with protein, often containing over 90% protein per serving.
Quick Fuel for Muscles: The body absorbs it up fast, delivering amino acids pronto for speedy muscle recovery, especially post-workout.
Mixes with Anything: You can toss it into shakes, smoothies, or even recipes, making protein-boosting a breeze.
Muscle Booster:

 It's like a buddy for your muscles, helping them grow when teamed up with strength training.
However, it's not solely about the numbers; it's all about the overall experience. Legit Whey offers a diverse selection of incredibly delicious flavours, including indulgent Chocolate, velvety Vanilla, tropical Banana, and even Unflavoured for those who prefer a clean slate. These flavours have been thoughtfully curated to ensure that each sip is a delightful treat for your taste buds. Bid farewell to blandness and welcome a protein supplement that you'll eagerly anticipate consuming every day.
Payment & Security
Your payment information is processed securely. We do not store credit card details nor have access to your credit card information.