Roll over image to zoom in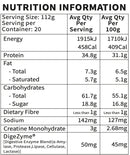 MAGIC MASS GAINER offers a 2:1 ratio of quality proteins and carbohydrates to help promote lean muscle growth and weight gain. Each serving contains 25g of protein, 60g of carbohydrates, 1.8g of fat and 404 calories, as well as 5g of creatine for enhanced performance.

If you're struggling to put on some size or simply looking for a delicious meal replacement powder while still watching your macros, Magic Mass is an easily digestible gainer that is perfect for the job!
Payment & Security
Your payment information is processed securely. We do not store credit card details nor have access to your credit card information.