Roll over image to zoom in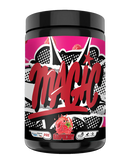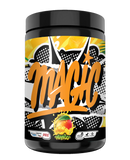 The ALL NEW Magic PRE is here!

Whats new? Pretty much everything! We have redesigned the pre workout from the ground up! Improving flavour, mix-ability, feel, focus and performance!
The Energy - The new MAGIC PRE now has 480mg of stimulants!
 A total of

 

300mg of caffeine

 

coming from 2 forms which helps provide a smooth, strong energy curve. We have 200mg of natural caffeine + 100mg of caffeine anhydrous. 
English Walnut 

 

is a central nervous system stimulant which is used to enhance levels of both energy and mental alertness.

Synephrine helps to increase metabolic rate, and elevate energy levels
The Pump and Performance
4000mg of Cittruline

 

to help pumps and blood flow

700mg of Agmapure

 

increases nitric oxide levels and pumps
750mg Creatine HCL

 

helps with explosive power and strength
3000mg Beta Alanine

 

buffers lactic acid to help you push harder for longer
2000mg Betaine Anhydrous

 

compliments the creatine 
Taurine 

can assist in maintaining muscular performance and intensity during exercise, allowing you to train and compete harder for longer. 
The Focus
Alpha GPC

 

to enhances focus and mental performance
L-Tryptophan, 

Your body changes L-tryptophan into a brain chemical called serotonin. Serotonin is a neurotransmitter that mediated satisfaction, happiness hence the wellbeing feeling on this pre!

Acetyl L-Tyrosine can acutely increase the production of noradrenaline and dopamine contributing to an increase in attention and cognitive performance.
The NEW MAGIC PRE V2 is the perfect blend of energy and performance while leaving you feel super focused, euphoric and ready to rip into your workout!
Available in 3 delicious flavours! 
Grape bubble gum, Raspberry and Mango. You'll find this formula mixes up so easy with no clumps and sits well in your stomach with not bloating. 
One thing to note with this pre workout is 2 scoops is 1 serve. So to get the full effect of this pre make sure you are hitting the 2 scoop serving.
Payment & Security
Your payment information is processed securely. We do not store credit card details nor have access to your credit card information.