Roll over image to zoom in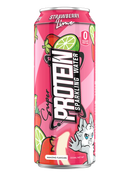 Discover the advantages of Nexus' Super Protein Water RTD! Brimming with revitalising protein, this distinctive, ready-to-drink beverage is a one-of-a-kind offering in the market. Waste no time and savour the exceptional flavour.
Nexus has achieved a breakthrough with their remarkable Super Protein Water RTD! Every can delivers a robust 15.5g of protein, delivering convenient protein boosts whenever you need them. Effervescent and invigorating, these beverages are the perfect choice for individuals seeking a non-dairy way to energise their day.
15.5g of protein per can
Zero fat, zero sugar and low carbs
Carbonated water
Supports and promotes lean body mass
Stimulates and boosts collagen production
Increases pro-collagen and elastin
Supports and promotes muscle mass and strength
Adequate protein intake is crucial for anyone engaged in physical activity. It plays a dual role in facilitating muscle recovery and promoting muscle growth and strength. Super Protein Water RTD offers an ideal solution for incorporating extra protein into your fitness routine, whether it's before, during, or after your workout. Take a sip today, and we assure you that one taste is all it takes to get you hooked.
Choose from a delightful trio of refreshing flavours: Passion Mango, Strawberry Lime, and Tropical Crush
Payment & Security
Your payment information is processed securely. We do not store credit card details nor have access to your credit card information.