Roll over image to zoom in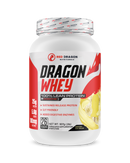 Dragon Whey - 100% Lean Protein by Red Dragon Nutritionals

Dragon Whey was formulated utilising a sustained release blend of the finest quality proteins, to be the most versatile, clean, and gut friendly whey proteins on the market. Perfect post-workout, between meals, or to satisfy those sweet milkshake cravings.
Our versatile blend makes it the ideal addition to your oats, smoothies, or making protein snacks with, leaving no chalky textures or protein aftertaste. We pride ourselves on having one of the smoothest, creamiest WPI dominant blends available on the market.
With the addition of the multi-enzyme complex DigeZyme consisting of gluten-free and GMO-free broad acting digestive enzymes, Dragon Whey is as gut friendly as whey proteins come!
When you regularly have Dragon Whey by Red Dragon Nutritionals, you'll experience:
A high-quality whey blend with whey protein isolate, whey protein concentrate, calcium caseinate and whey powder
A sustained release protein powder
Help to achieve muscle recovery and growth
Added digestive enzymes for easy absorption
A low fat and low carbohydrate blend
Amazing flavours you'll keep coming back to
A product that is free from gluten
Added free form and naturally occurring amino acids
Support for your overall body composition goals
In each serve of Dragon Whey by Red Dragon Nutritionals, you'll find:
131 Cal
25.5g of Protein
1.5g of Fat
1.0g of Saturated Fat
3.6g of Carbohydrates
3.2g of Sugar
163mg of Sodium
0g of Gluten
100mg of Digezyme
Payment & Security
Your payment information is processed securely. We do not store credit card details nor have access to your credit card information.