Roll over image to zoom in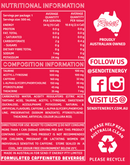 Send It Energy is Australia's very own energy drink. Made right here in Australia by the people, FOR THE PEOPLE!
Using a mix of ingredients designed specifically to give you extended energy, mental focus & boost productivity without the dreaded crash! No matter what your chosen sport is, activity or daily task Send It Energy is fast on the go best friend!
Currently with 4 delicious and addictive flavour to choose from. All that's left to do is choose your flavour and let Send It take care of the rest!
Payment & Security
Your payment information is processed securely. We do not store credit card details nor have access to your credit card information.