Roll over image to zoom in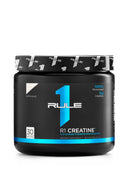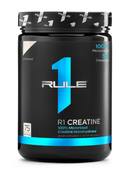 Rule 1 R1 Creatine is 100% pure, pharmaceutical grade creatine which has been micronised for a more rapid absorption. Creatine works to recycle ATP (Adenosine Triphospate) which is our energy source. This recycling of ATP enables ATP to be produced at a faster pace for more rapid bursts of energy. Creatine will improve muscular endurance and is particularly useful for repetitive exercise such as weight training or sprinting. Creatine acts like a sponge and draws fluid into the muscle. This cell volumisation acts as an anabolic signaller to support muscle growth, meaning supplementing with R1 Creatine will prime the muscle for growth by creatine an anabbolic environment. The fluid retention in the muscle tissue may also induce a natural muscle pump.
Consume 1 serving a day in fruit juice/in conjunction with a simple sugar.
Payment & Security
Your payment information is processed securely. We do not store credit card details nor have access to your credit card information.