Roll over image to zoom in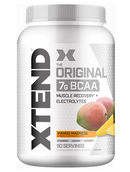 Are you looking to enhance your performance and muscle recovery? Then Scivation XTEND is for you! Designed with a unique blend of Branched Chain Amino Acid (BCAA) that is guaranteed to encourage fast recovery and help you meet your fitness goals.
Faster recovery is key to better results… Powered by 7 grams of branched-chain amino acids (BCAAs), which have been clinically shown to support muscle recovery and growth. XTEND also contains hydrating electrolytes and additional performance ingredients to help you refuel, repair, and recover. Xtend is available in a range of mouth-watering, refreshing flavours to make every workout an enjoyable one.
Scientifically Formulated
Supports Muscle Growth and recovery
Burn Fat
Increase Endurance
Payment & Security
Your payment information is processed securely. We do not store credit card details nor have access to your credit card information.