Roll over image to zoom in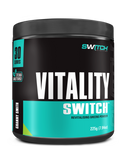 Vitality Switch™ is an ALL IN ONE Revitalising Super Greens Wholefood Powder. The 33 ingredients have been hand-selected to provide you with some of the planet's healthiest nutrients. It contains 5 amazing blends to optimise your bodys systems.

NOTE: Vitality Switch™ is not Vegan (except Strawberry Kiwi) as it contains Sustainable Wild Caught Marine
Collagen. 
SUPER GREENS WHOLE FOOD BLEND: Our blend of organic, spray free and sustainably farmed greens will help
to support your nutrient requirements and diversity. This blend will supply you with concentrated botanicals yielding high levels of antioxidants, vitamins and minerals.
ORGANIC MUSHROOM BLEND: Our blend of MUSHROOMS has been added to help support the vital systems of
your body. Many of the ORGANIC mushrooms in this blend have been used for centuries. Science is now catching up and showing how they may improve your results.
DIGESTIVE ENZYME BLEND: A lot of people do their best to eat healthy, but their digestive system may not be
breaking down and absorbing the nutrients found in their food efficiently. We have specifically added a super
digestive enzyme blend to help you get the nutrients from your food to support your goals. 
GUT BLEND: Our gut blend is designed to help nourish a healthy microbiome. We have added in Wild Caught
Sustainable Marine Collagen (except Strawberry Kiwi) and a carefully selected 3 strain heat stable probiotic
blend to help you fight the baddies in your belly.
CLEANSE AND HEALTH SUPPORT BLEND: Our entire formula will work together to support your health and
performance. We have added Cell Charge™ a super antioxidant rich source of polyphenolic compounds, humic
and fulvic minerals plus amino acids. In addition, we have added Oregano, Coriander, Ginger, Astragalus and so
much more.  
Vitality Switch™ is designed by nature and combined in our amazing great tasting formula to help provide you
with what you may be missing from your day to day routine.
 TASTES AMAZING
 100% AUSTRALIAN OWNED & MANUFACTURED
 NO ADDED GLUTEN
 NO ADDED LACTOSE
 NO ADDED SOY
 NO ADDED DAIRY
 NO ADDED SUGAR
 NATURALLY SWEETENED
 KETO FRIENDLY
 100% OPEN LABEL
 MANUFACTURED IN A GMP & HACCP CERTIFIED FACILITY
The above information is merely a guide and is NOT a recommendation or a treatment protocol for any health
conditions or diseases. You should always consult with a qualified health care provider before changing your
supplement, training, or nutritional strategy. Supplementation should not be attempted by pregnant or
breastfeeding women, anyone on prescription medication or children under the age of 15 unless advised by your
qualified health care provider.
Payment & Security
Your payment information is processed securely. We do not store credit card details nor have access to your credit card information.