Roll over image to zoom in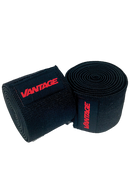 Made from heavweight cotton elastic, Vantage Strength Knee Support Wraps give you comfort through the full range of motion.
KEY FEATURES
» 80mm x 1940mm for maximum support.
» Flexible, cotton elastic construction.
» Provides superior comfort and support for your knees.
» One size fits all.
» Available in Black
Payment & Security
Your payment information is processed securely. We do not store credit card details nor have access to your credit card information.